the cloud tramp home page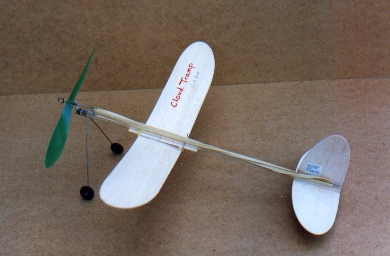 Announcing
The 23rd Charles Hampson Grant Memorial International Mass Launch Of Cloud Tramps
Or
GRANT MIMLOCT 2018
We are promoting this event to celebrate the contributions made by Charles Grant to the development of our hobby. We hope that as many people as possible will make a Cloud Tramp and join in the simultaneous launch on Saturday, August 5, 2018. The Launch Time will be 1700 hrs British Summer Time (GMT + 1 hour), so individual participants will have to calculate the appropriate local time at their venue [ New York, 1200 hrs; California, 0900 hrs; Sydney 0400 hrs, etc. ]
GRANT MIMLOCT 2018 is not a competition and there are no prizes. We hope participants will enjoy the fun of building and flying the Cloud Tramp, as well as taking part in this unique event, which attracted 141 participants from all over the World in 2016 and 131 in 2017.
Please let us know if you take part in GM 2018 so that your name can be included in the official report. Use the Comment feature below.
NEW! A CLOUD TRAMP MUG is available on eBay, type Cloud Tramp Mug into the search box. Mike Parker has one of these and they are very nice quality.
make a cloud tramp
The Cloud Tramp was the last manifestation of Charlie Grant's basic stick rubber model for beginners and appeared in Model Airplane News, August, 1954. These models were intended to illustrate scientific principles of design, trimming and stability. The Cloud Tramp can be built very quickly and flies well. A copy of the plan [ half-size, with some full size parts ] can be downloaded.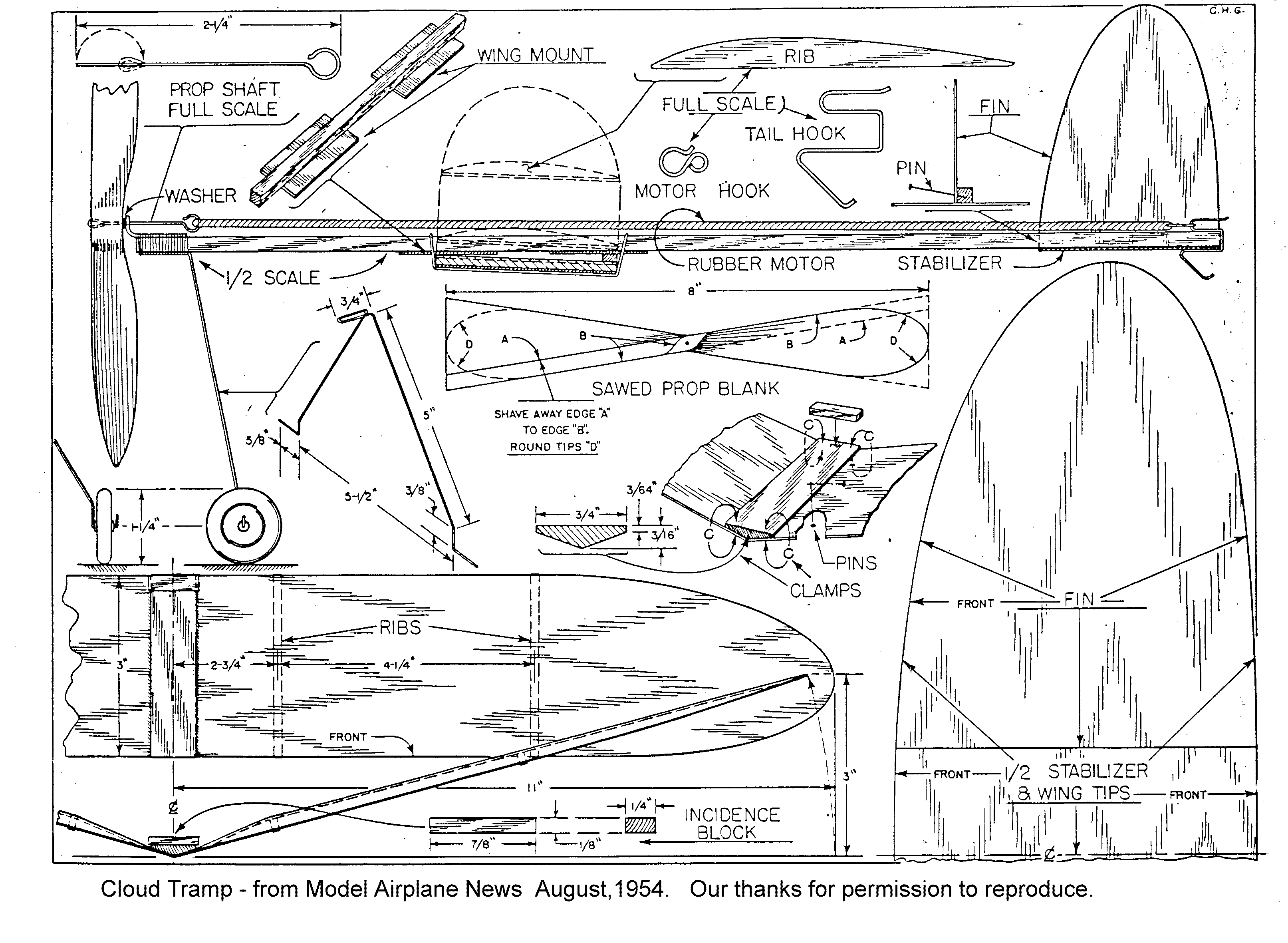 Save it to hard disk and open it with a suitable application so that it can be printed at the correct A4 (11″ x 8.5″ USA) size. Size it so the wing chord is 3″. The text of the accompanying article can be read on Garry Hunter's excellent website.
Two articles about Charles Grant and the Cloud Tramp have appeared in the magazine Free Flight Quarterly, Issue No. 2, January 2002, page 18 and Issue No. 3, April 2002, page 19. Back issues are available on CDs.
Lastly, why not decorate your CT with an authentic Charlie Grant autograph,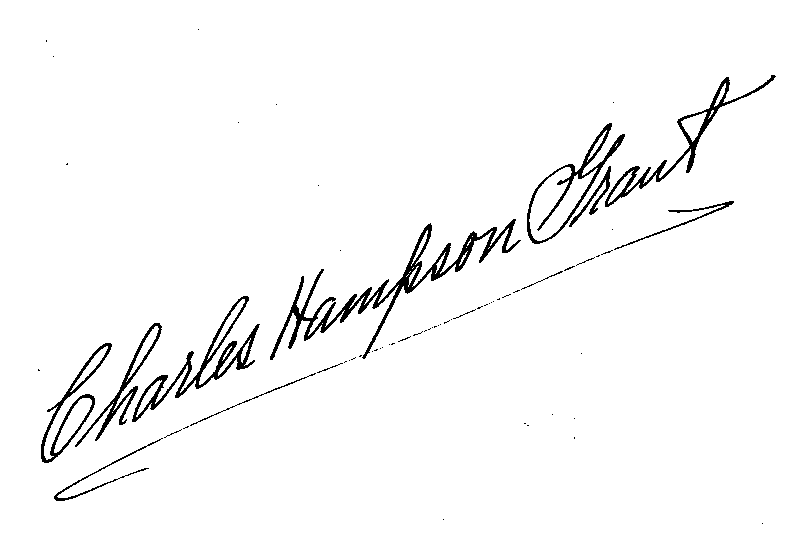 or even better, this neat graphic specially drawn by Iain Paterson.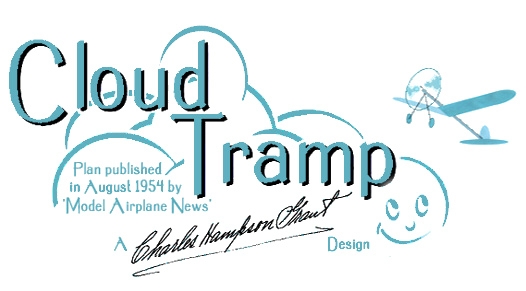 Just import it into a Microsoft Word document or equivalent, adjust to the size you want, then print onto tissue and dope/glue it in place.
If you want a full size CT plan specially drawn by Bob Jones, click HERE.
cloud tramp kits
A Laser cut Cloud Tramp kit is available from George Bredehoft in the USA. He emailed to say:
I make them in small batches and can provide overseas. Of course, combined orders will save on shipping.
Orders should be placed on the website (regardless of apparent stock-on-hand).
I offer a balsa prop, cut to the specs in Charles Hampson Grant's book – where he describes and defines the Cloud Tramp. On my site, I offer a "combo" pack of the kit plus the prop blank, giving the buyer a discount when they order the combo.
A&DB Models in Great Britain made a kit at one time.
I am pleased to report that a new kit is being produced by Vintage Model Company in Great Britain, convenient to the European market.
modifications and suggestions
The prop shaft bearing can be modified to aid trimming – have a look at some ideas that Pete Money has collected, including a neat adjustable system developed by Bob Morris, and the alternative system that Bob Kopksi uses. Pete has also forwarded some suggestions for improving the wing construction and fixing. See also our suggestions on EndlessLift. (This construction was adopted by George Bredehoft for his Volare kits.) If your CT needs a D/T, Roland Frid has developed a neat system. If you fancy a change from rubber power, have a look at Tony Overton's alternatives or even try an enlarged R/C version like Den Saxcoburg.
previous mimloct reports
Have a look at Colin Hutchinson's 2011 and 2012 photopages of the event.
There are several videos featuring Cloud Tramps on YouTube! Just type Cloud Tramp into the search box to find them.
Mike Parker compiled a report of GM 2015 from the various anecdotes submitted by participants. Please feel free to print copies for circulation to those folks who are not yet part of the www community.
See the Epsom Downs Model Aircraft Club fly their Cloud Tramps here  EDMAC.
Read the 2017 MIMLOCT Report.