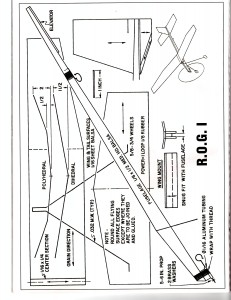 WNYFFS is having a contest using a simple design. I think this is great idea because anybody can participate.
Looks like an interesting little plane. Requires a plastic wing root. I may have to fire up my 3D printing system in order to make those parts…
Here's a quote from Jim De Tar:
For sure our next indoor flying session is coming up this Saturday, Dec. 3, from 2 – 4 pm at the Pieters Family life Center.

If you've received the Fall 2011 issue of the WNYFFS "

Thermal Journal

", you no doubt noticed an announcement of a contest for a simple indoor model which was presented as a full size plan in the July 2011 issue of "Flying Models" magazine.  Bob Clemens is sponsoring the contest and offering an aviation print of his wonderful professional, skilled  photography as the prize.  Full details are in the "Journal".

I've scanned the plan for the "R.O.G.1" and have included it here for anyone interested.  Who knows, I may have one ready to fly this Saturday myself.

See you all then.