I can now say I have built all four of the Guillow's Build-n-Fly series of model planes, but not in the recommended order. The Goldwing hand launch glider is the first in series and it was the last plane I constructed. This has been the only plane in the series that I did not modify in anyway and no wood replacement was done. The Goldwing might be the only hand launch glider kit that you find in retail outlets, other hand launch glider kits are normally purchased through the smaller companies that specialize in free flight model planes sold through mail order. If you can not find Guillow's kits locally at a hobby shop or craft store, the kits can be found online from larger hobby vendors. Retail price is $12, but I found the kit on the Internet for under $9, there is also a 12-pack bulk pack available, $72 was the cheapest I have seen for that.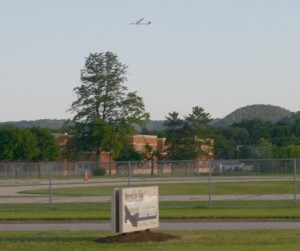 Hand launch gliders normally are made from solid balsa pieces; that is no framework and no covering needed. The largest amount of work will be sanding the airfoil-shape into the wing. I used sandpaper provided and worked my way up to finer grits of sandpaper to get a smooth surface on the wing. This will take a fair amount of time. Included in the kit is one piece of sandpaper and a small bottle of white glue but I used Duco cement just because it is what I use for most building. I was careful to get all surfaces in alignment as close as possible, this glider does not use tilted stabilzer the way some hand launch gliders do. To balance the glider it is going to take a fair amount of ballast because it has a long fuselage. I used the clay provided to arrive at the indicated balance point, and then covered the clay with hot melt glue to keep it from coming off. This has worked well so far.
Flying hand launch gliders is harder than one might think because you want the glider to climb as fast as possible and transition smoothly into a flat glide. My Goldwing glider was in trim right from the start; it will make a nice curve upwards to the right and start gliding in a gentle left circle on the way down. After throwing it a few times, I tried hooking my index finger to the back of the trailing edge to get more power in the throw. This started to crush the trailing that I had sanded very thin, so I smeared that area with glue which seemed to help.
In conclusion, I think this might be a pretty good model for a beginner to start with if they are accurate in the building and the trim adjustments. Without actually seeing an 8 year old try to launch a hand launch glider, I am not sure how well it would fly for them; some gliders are not very tolerant of bad launches. At some point I would like to try converting the glider to a catapult glider by adding a hook.
Bill Kuhl
Paul K. Guillow Inc. Website  – Link to Build n Fly Series