Last night I made a new wing from handmade Japanese Kozo paper.  It is about the same density as onionskin.  It has a 9/32″ shim at the leading edge, giving the wing an incidence of 4.68 degrees.  Plates on both sides of the shim keep the wingspan square to the stick, as before.  Add estimated zero lift angle 1.15 and the attack angle is about 5.83 degrees.  This is for the fuselage that has the one hole prop bearing with 0 degrees downthrust.  I remeasured the tailplane angles and found 0.87 degrees incidence, less -2.31 zero lift angle, for -1.44 degrees angle to the prop shaft, 7.27 decalage.  These numbers are close to those of the DD II with the MPC plastic prop and hanger, which was what I was aiming for, hoping to get similar performance.
Weight is 5.45 grams, with 17″ loop of 0.083″ the total weight is 7.25 grams.  Good flights with wing 3″ back from nose of stick, CG at 13/16″, 26% of wing chord.  It flew left circles without rudder deflection.  1,400 turns gave a flight of about 100 seconds.  It went up pretty high and drifted downwind.  I was afraid I was going to lose it, since it was still quite high as it approached the tree line, but fortunately the motor came off the prop hook and DTed.  The plane came down a few feet inside the trees.  See the attached video.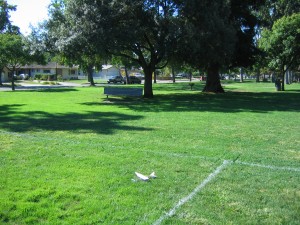 I did some turn tests with the Cloud Tramp, but there was too much drift for any high flights.
Gary