I noticed Chuck made a submission including a clothespin clamping-like technique.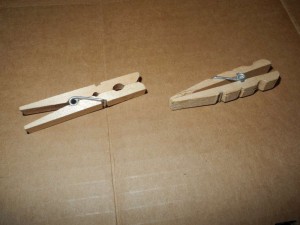 You take a clothespin and turn it inside out. You disassemble and reassemble it so it looks like in the picture.
I keep most of my clothespins this way. They have more reach, lower pressure and are way more useful.
I've been doing this since childhood. I think my childhood friend from Saskatchewan Bruce Sanborn may have showed me this. If not him, then Brian Wattie. If it wasn't any of those two then I probably made it up. 🙂