There are several simple model airplanes suitable for a first or second project.  These are ones that I have built and flown successfully.  All are powered by twisted strips of rubber.  You can see discussion of these planes elsewhere on this site.
AMA Cub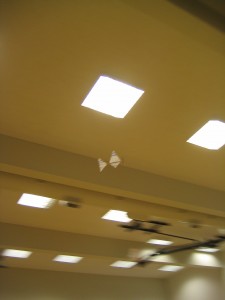 The AMA Cub is a simple, easy plane to build, tolerant of unskillful building and flys remarkably well.  It was designed by Frank Ehling.  It has a wingspan of 12″ and flys on a 5 1/2″ plastic propeller.  It may be flown inside a gymnasium or on large fields outdoors in calm weather.  Kids love it.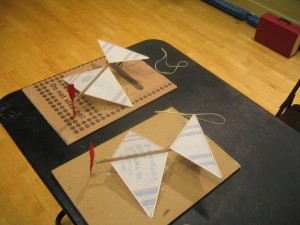 It is quite a thrill for adults, too, to see something they made, flying gracefully through the air.  Flights of more than a minute indoors are possible.  They have been known to fly away outdoors.
Bill Kuhl has a great web site dedicated to the AMA Cub here: Kuhl Darts
Kits may be ordered from the Academy of Model Aeronautics here:  AMA Store
Cloud Tramp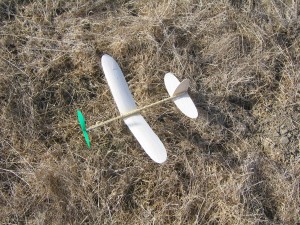 The Cloud Tramp is a relatively simple plane made with sheet balsa for the flying surfaces.  It requires a higher level of skill than the others listed here.  It was designed by Charles Hampson Grant and published in 1954.  It has a wingspan of 21″ and flys behind an 8″ plastic or balsa propeller.  You can make one half size with a 4″ propeller.
The 2010 Cloud Tramp postal contest ended October 31.  See the details here, including links to plans, kits and instructions for building one: Cloud Tramp
In my search for an outdoor flying field, I took my Cloud Tramp along for some trial flights.  I had one flight of 3:45.  Others have had flights of over 10 minutes.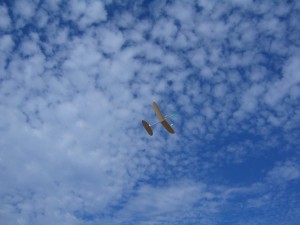 Here it is on a short test hop.
DennyDart II
I have also been having fun with a DennyDart II designed by Neil Dennis.  I traded two of my Squirrel kits to Ding for two DennyDart kits.  You can have fun and learn much from these simple planes without losing much if they crash or fly away.
You can see the AMA Cub heritage in the triangular surfaces and stick fuselage.  I added wheels for some ground takeoffs.  It has a wingspan of 13 3/4″.  The 6″ MPC propeller and wheels came from a Dandiflyer.  Note that it has a small paper rudder tab.  I have had flights of almost two minutes outdoors.  To fly in small local parks, I must limit the length of the motor and number of turns put into the motor to keep it from flying away.
If you would like to build one, plans and instructions may be found elsewhere on this site. 
Squirrel
The Squirrel is another plane that is easy to build and flys well.  It was designed by Darcy Whyte.  It has a 12″ wingspan and uses a 5 1/2″ plastic propeller assembly.  You can see some similarities with the DennyDart.  Both are quick and simple to build.  I have added wheels to this one.  I also simplified and lightened the construction.  It will do more than a minute in the gym, much more outdoors.
If you would like to try a modified Squirrel like this one, instructions may be found here:  
Light Squirrel 
Test pilots, keep the parts from your wrecked planes and use them again in another project.
Hope we can fly together some day,
Gary Hinze